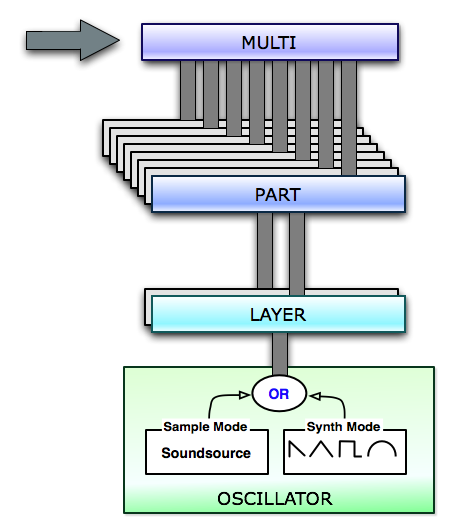 The MULTI is at the top of Omnisphere's hierarchy and consists of up to eight Parts, together with four Aux FX Racks and a Master FX Rack.
The Multi Section contains four pages:MIXER, FX,LIVE and STACK. These allow access to a full-featured MIXER, the Multi FX, and two flexible performance modes: LIVE MODE and STACK MODE, which provide interactive environments for both composition and live performance. These sections are covered in detail in their respective sections of the Reference Guide*.*
Saving a MULTI is like saving the entire state of the plug-in for future recall. A MULTI stores all of the settings from the MIXER page, the Multi FX, the LIVE MODE and STACK MODE pages, all MIDI Learn assignments, and all of the settings (including any unsaved edits) for each of the eight Parts.
All of Omnisphere's settings are saved and recalled with a project in your plug-in host software.
Saving an individual MULTI lets you recall the entire saved state of the plug-in and load it at a later time into new instances of Omnisphere (or new projects) by loading the MULTI from the MULTI Browser.