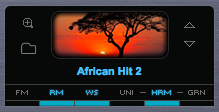 When in SAMPLE mode, the OSCILLATOR plays back Soundsources from Omnisphere's massive Core Library. Soundsources range from complex, multi-sampled sounds to single sample mapped across a keyboard.
SAMPLE
MAIN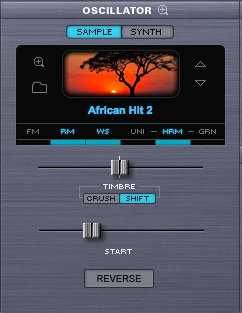 Soundsource Display
The Soundsource Display area contains an image of the loaded Soundsource, provides controls to step through Soundsources and access to the Soundsource Browser and Soundsource Zoom.
Image
Whenever you load a Soundsource into the Layer, it will include an image representing the Soundsource – convenient to see the type of Soundsource that is loaded.
Browser Access
Selecting the Folder icon, the Soundsource Name Display, or the Soundsource Image will open the Soundsource Browser.
Soundsource Zoom
Selecting the magnifying glass icon will open the Soundsource Zoom.