Using the applicable browser, choose the sounds you want to share by using shift-click.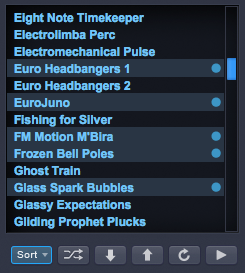 NOTE: Use option-click if you wish to de-select them all in one step.
Next, select "Share Sounds" from the Utility Menu or press the "Share" button in the Full Browsers to create an .omnisphere file containing the selected sounds.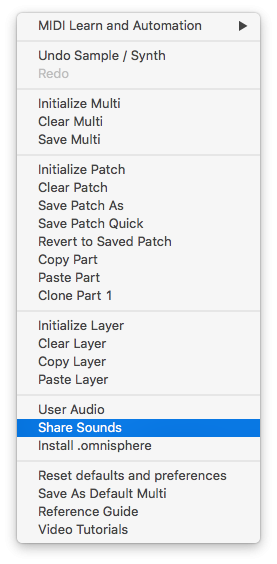 NOTE: If a Patch or Multi you are sharing employs User Soundsources, those will be included as part of the .omnisphere package.

After viewing the copyright message, you will be prompted to enter a name and select a location where you wish to store the .omnisphere package.

Next you will get a report of the data contained in the package.

Select "Continue" and you'll get a confirmation that your sounds are ready to share.

You can send the .omnisphere file to other Omnisphere users and they can select Install .omnisphere from the Utility Menu to import the shared package

NOTE: When you want to share only one type of sound at a time, (Multis, Patches, or User Soundsources), this is the quickest and simplest method. If you wish to share multiple types of sounds at once, see Share Projects or Publish Library.