Adding sounds to your library that have been Shared by other Omnisphere users is simple!
Omnisphere sounds that have been shared using the Sharing feature are conveniently collected into a single .omnisphere file. Files with the extension .omnipshere can be added to your library in a single operation, which automatically imports all the necessary components (Multis, Patches and User Soundsources) to play those sounds into your Omnisphere library.
This feature handles the file management for you – you never have to leave Omnisphere.
Once you have received the shared .omnisphere file, select "Install .omnisphere" in the Utility Menu.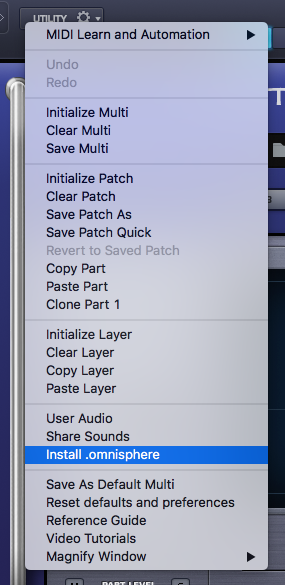 After selecting the .omnisphere file, you will get a report of data the package contains.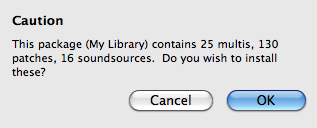 After clicking OK, Omnisphere will display a confirmation where the new sounds have been installed.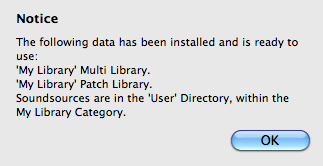 Multis that were shared using "Share Sounds" or "Share Project" will be stored here:
STEAM

/Omnisphere/Settings Library/Multis/Sharing
Multis that were shared using "Publish Library" will be stored in their own directory here:
STEAM

/Omnisphere/Settings Library/Multis
Patches that were shared using "Share Sounds" or "Share Project" will be stored here:
STEAM

/Omnisphere/Settings Library/Patches/Sharing
Patches that were shared using "Publish Library" will be stored in their own directory here:
STEAM

/Omnisphere/Settings Library/Patches
Soundsources will be stored here:
Spectrasonics/STEAM/Omnisphere/Soundsources/User