Published libraries can contain Multis and/or Patches and any User Soundsources contained therein. They can also contain images which will be displayed in Omnisphere's interface when those sounds are loaded.
Once a library is ready to be published, option-click/alt-click on the Utility Menu and a "Publish Library" menu item will appear at the bottom of the list. This item contains a sub-menu displaying the libraries available for publishing. Select the library you want to publish and after viewing the copyright message, you will be prompted to enter a name and select a location to store the .omnisphere package. At this point you have the option to rename it.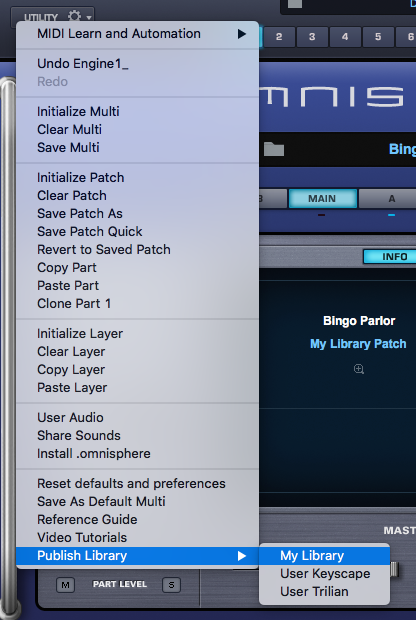 NOTE: If you are publishing a library of Multis and Patches (both libraries have the same name) the library will only show up once in the "Publish Library" sub-menu. Selecting it will include both Multis and Patches and any associated Soundsources and images.
When completing these steps. you will see a report of the data to be included in the .omnisphere package.

After clicking Continue, an .omnisphere file will be created and is now ready to be shared.